November Newsletter
ROSE State of the Queers
NEWSLETTERS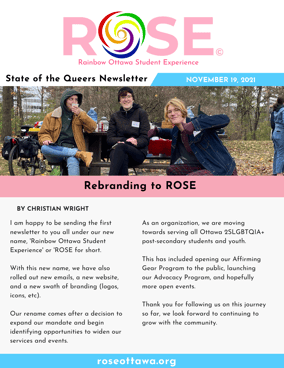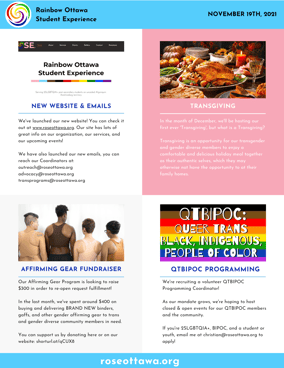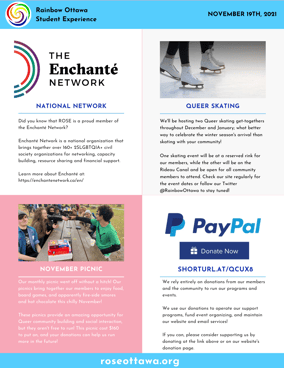 Image Descriptions.

There are four images. Each has The ROSE, Rainbow Ottawa Student Experience logo at the top of the page. It is the word Rose, but the O is a graphic of a rose flower with rainbow petals. The title is: state of the queers newsletter, November 19th, 2021. It is written by Christian Wright.
Rebranding to ROSE.
I am happy to be sending the first newsletter to you all under our new name 'Rainbow Ottawa Student Experience' or ROSE for short. With this new name, we have also rolled out new email, a new website, and a new swath of branding (logos, icons, etc). Our rename comes after a decision to expand our mandate and begin identifying opportunities to widen our services and events. As an organization, we are moving towards serving all 2SLGBTQIA+ post-secondary students and youth. This has included opening our Affirming Gear Program to the public, launching our advocacy program, and hopefully more open events. Thank you for following us on this journey so far, we look forward to continuing to grow with the community.
The next page is segmented into different categories.
There is an image of the new ROSE website layout with the caption "new website and emails".
We've launched our new website! You can check it out at www.roseottawa.org. Our site has lots of great info on our organization, our services, and our upcoming events! We have also launched our new emails, you can reach our coordinators at: outreach@roseottawa.org, advocacy@rosottawa.org, transprograms@roseottawa.org.
There is a picture of a group of four people facing away from the camera. They are all wearing in different binders, that match their different skin tones. The caption is "Affirming Gear Fundraiser". Our affirming gear program is looking to raise 300 dollars in order to re-open request fulfillment. In the last month, we've spent around 400 dollars on buying and delivering brand new binders, gaffs, and other gender affirming gear to trans and gender diverse community members in need. You can support us by donating here or on our website: shorturl.at/qCUX8.
There is an image of a holiday feast, with a turkey, pie, green beans, and various decorations with the caption "Transgiving".
In the month of December, we'll be hosting our first ever 'transgiving', but what is Transgiving? Transgiving is an opportunity for our transgender and gender diverse members to enjoy a comfortable and delicious holiday meal together as their authentic selves, which they may otherwise not have the opportunity to at their family homes.
There is an image of a rainbow flag with black and brown stripes. There is text on top that says QTBIPOC: Queer trans, black, indigenous people of colour.
The caption says: QTBIPOC Programming. We're recruiting a volunteer QTBIPOC Programming Coordinator! As our mandate grows we're hoping to host closed and open events for our QTBIPOC members and the community. If you're 2SLGBTQIA+, BIPOC, and a student or youth email me at christian@roseottawa.org to apply.
There is an image that says the Enchanté network, with their logo which is a sideways arc shape with various coloured stripes.The caption is National network.
The body text says: Did you know that ROSE is a proud member of the Enchanté network? Enchanté network is a national organization that brings together over 160+ 2SLGBTQIA+ civil society organizations for networking, capacity building, resource sharing and financial support. Learn more about Enchanté at: https://enchantenetwork.ca/en/.
An image of a group of people at a picnic bench, playing with games and smiling with the caption: November picnic. Our monthly picnic went off without a hitch! Our picnics bring together our members to enjoy food, board games, and opportunity for fire-side smores and hot chocolate this chilly November! These picnics provide an amazing opportunity for queer community building and social interaction, but they aren't free to run! This picnic cost 160 dollars to put on, and your donations can help us run more in the future!
An image of two pairs of skates with the caption: Queer skating. We'll be hosting two queer skating get-togethers throughout December and January: what better way to celebrate the winter season's arrival than skating with your community! One skating event will be at a reserved rink for our members, while the other will be on the Rideau canal and be open for all community members to attend. Check our site regularly for the event dates or follow our twitter @rainbowottawa to stay tuned!
There is an image with the PayPal logo, a button that says donate now, and a url that says shorturl.at/qcux8. The body text says: we rely entirely on donations from our members and the community to run our programs and events. We use our donations to operate our support programs, fund event organizing, and maintain our website and email services! If you can, please consider supporting us by donating at the link above or on our websites donation page.
At the bottom of every image in the newsletter is ROSE's website. The url is roseottawa.org.
The following text is bolded. This image description was done by a ROSE Accessibility Volunteer, Emmerson. Contact us at christian@roseottawa.org if you have need for more information about this image description, or any concerns.