Do you identify as 2SLGBTQIA+ and need help finding assistance?

ROSE believes in community-based care and support, we're happy to try and help you navigate the existing networks of 2SLGBTQIA+ service providers in Ottawa, and do our best to connect you with existing resources in the community.
If you need help signal-boosting or platforming a specific mutual aid or community care effort such as a fundraiser, ROSE may be able to provide support through our Media and Design Team and our social media accounts.

If you want help with finding information on available 2SLGBTQIA+ services or programs in Ottawa or with a mutual aid effort, contact our Community Care Volunteers at support@roseottawa.org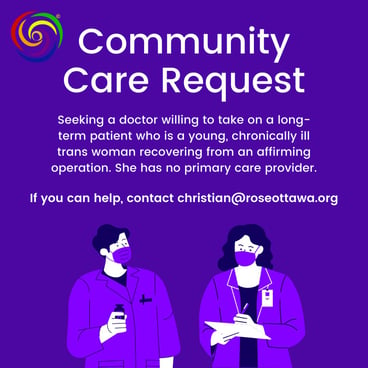 An example of a Community Care Request done for a community member, designed by one of our Media and Design Volunteers.